PlayStation VR is increasingly becoming a larger platform, especially with the impending PS5 VR release. But no matter where you play your VR games, whether on PS4 or PS5, you're in for an incredible experience. With PlayStation unleashing new games almost every month, it's hard not to be overwhelmed by what's out there. Some unreleased VR games are slated to hit PSVR in the coming months.
We look forward to adding some titles to our best PlayStation VR games list, and we hope some of these catch your eye too.
The Sniper Elite series has become one of the most popular first-person shooter series around, and now players can get the chance to experience the game in VR. Completely redesigned from the ground up, Sniper Elite VR aims to retain its authenticity and deliver a brand new perspective on sniping and stealth mechanics.
VPN Deals: Lifetime license for $16, monthly plans at $1 & more
Sniper Elite VR lets you take on a more realistic sniper experience with the compatible PlayStation VR Aim Controller. Reloading, aiming, and ensuring you line up the shot are vast aspects of the game, even more so in virtual reality. Along with the free movement aspect of Sniper Elite, you can set up camp anywhere and take down enemies at your leisure.
Release date: July 8, 2021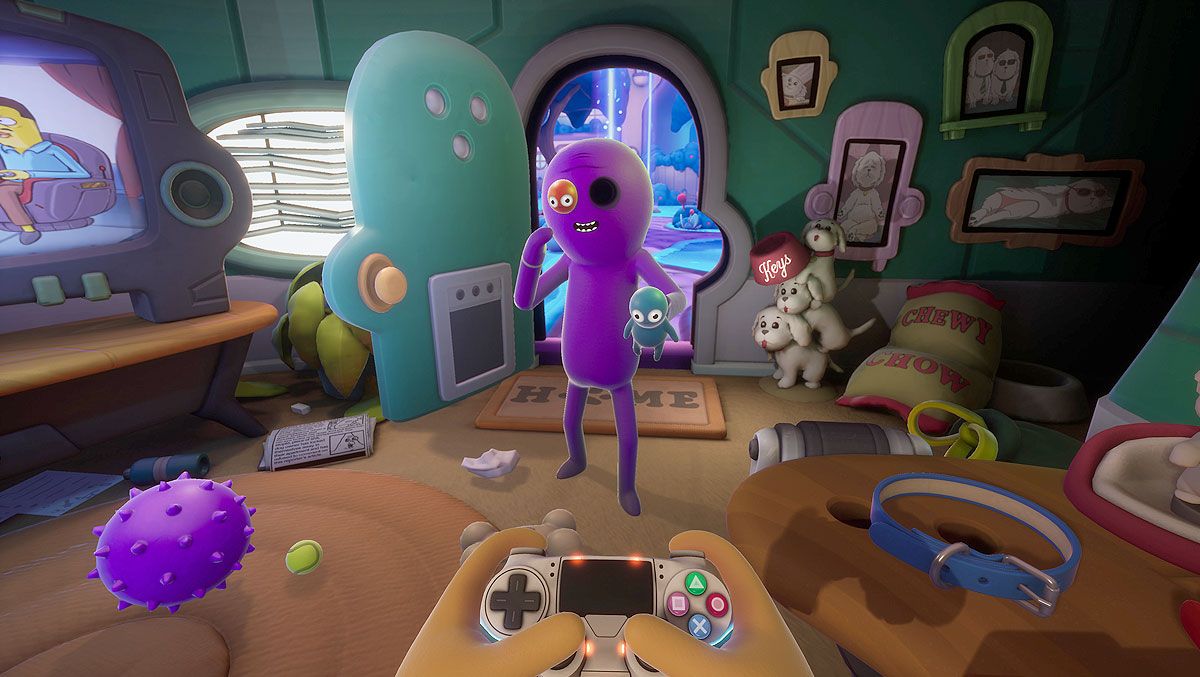 Winds and Leaves
Anybody looking for a relaxing experience should watch Winds and Leaves. Your entire goal in the game is to grow vegetation. Explore the environment, and you'll unlock new types of flora and equipment upgrades that can help you grow plants even faster. Your primary means of movement is a pair of stilts, which players can feel through the PS Move controllers.
The developer said Winds and Leaves were influenced by The Man Who Planted Trees, an old French-Canadian animated short from the 1980s. An older short story focuses on a man who spends his entire life reforesting a valley, completely isolated from others.
Release date: July 27, 2021
After the Fall
Have enough post-apocalyptic experiences? Well, you're in for another one. Developer Vertigo Games (creators of Arizona Sunshine) is bringing After the Fall to PlayStation VR. Set 20 years after a viral outbreak caused by designer drugs, Los Angeles is infested with this so-called Snowbird. As a seemingly immune survivor, you'll be tasked with helping humanity take back what was lost.
After the Fall features a shared world with seamless, cooperative gameplay; though you can play it as a lone wolf if you'd like, players will explore ruins from the 1980s, craft and mod their gear, and take on feral hordes of enemies. However, be careful when you encounter a boss because these behemoths are incredibly deadly.
Release date: Summer 2021
Fracked
High-octane, explosive action awaits you in Fracked, a first-person VR title built exclusively for Sony's headset. You're stuck inside a fracking facility on a remote mountain and must use all your wits and reflexes to escape some interdimensional enemies. Fracked touts "relentless 'run-and-cover' gunfights with free and fluid skiing and climbing," according to its developer. This title takes full advantage of the PS Move controllers, putting you into the reluctant shoes of the hero.
While it's released for PSVR on PS4, it will also receive some PS5 enhancements, though those have yet to be fully detailed. Players can expect improved framerates, loading times, and resolution. And if that isn't enough to get you interested, developer nDreams describes Fracked as "a 2021 version of Die Hard or Cliffhanger" with some RoboCop satire thrown in for good measure.
Release date: Summer 2021
Arashi: Castles of Sin
Arashi: Castles of Sin is an upcoming stealth-action sandbox game that puts players in the shoes of Kenshiro, an elite shinobi and the last surviving son of the noble House Arashi. In your adventures through feudal Japan, players will travel with their wolf companion Haru as you exact revenge for their merciless destruction and reclaim the castles taken from you for good.
As you make your way through the game, players will also be able to use the environment. Every decision you make has power; you can take enemies out stealthily or via head-on confrontation.
Release date: Summer 2021
Puzzling Places
If you thought regular 2D puzzles could be challenging, wait until you look at Puzzling Places. Puzzling Places is a 3D jigsaw puzzle game coming to PSVR. It seems to feature a lot of environments and buildings, and that's because the developer was founded "to make real-world places explorable through VR." An error in its 3D scanning Photogrammetry caused some pieces to be jumbled up, and the idea for Puzzling Places was born.
According to the studio, each puzzle will have multiple difficulty variants, ranging from 50 pieces to hundreds of articles that could take a few days to assemble. Traditional fans of puzzle boards should check this out.
Release date: Winter 2021
I Expect You To Die 2
Puzzle game fans have something to look forward to in I Expect You To Die 2. Get ready for a top-secret assignment and use all of the espionage tactics in your belt in this James Bond-esque thriller. And did I mention you also have telekinetic powers at your disposal? Do whatever it takes to collect the intelligence you need; try not to die.
I Expect You To Die 2 features a classic spy story and an immersive environment to explore. The first game was generally well-received among reviewers and fans, so this sequel has much going for it. There's always room for more puzzle games on the market.
Release date: 2021
Song in the Smoke
After watching the Song in the Smoke trailer, we were heavily reminded of Far Cry Primal. The prehistoric wilderness on display here is about survival, forcing you to battle deadly predators for precious resources that might keep you alive. Craft weapons, camp, and go hunting for your next meal.
Song in the Smoke appears to have some mystical elements as well. Its announcement post on the PlayStation Blog mentioned a mysterious giant tree you're compelled to go to by visions of a shaman who doesn't seem to be of this world. There are some mysteries beneath its surface here, and they should be fascinating to uncover.
Release date: 2021
Stride
Ever wonder what Mirror's Edge would look like in virtual reality? Well, this is the closest thing you might get. Since you probably can't do parkour in real life, do it in the safety of VR with Stride. It's not exclusively about parkour either since you'll have to fight enemies on rooftops of the metropolis you're turning into a jungle gym. Stride will feature an Arena mode, Time Run mode, and an Endless mode with infinite level generation.
If you're prone to motion sickness or vertigo, this might not be the best game for you to play in VR. However, if you're looking for a rush and want to play a quick action game, Stride seems to be a good fit.
Release date: 2021
Zenith
JRPG fans can look forward to Zenith coming to PSVR. This MMO features a colorful open world of gorgeous environments, futuristic cities, and intimidating beasts. The developer describes its first-person combat as "hyper-immersive" and makes it easy for anyone to pick it up.
Some of Zenith's multiplayer content includes world bosses, public events, and dungeons, where you'll need to be at your very best if you want to beat the challenges ahead. In an extraordinary move that I'm sure players will appreciate, classes don't define your role in the game. You can "Tank as an Essence Mage or heal as a Blade Master." This being an RPG, the choice is yours.
Release date: 2021
Wanderer
Wanderer is a recently announced action-adventure game set in an alternate timeline where nature has taken over, and everything about the world has been flipped. Players can embody an infamous cast of characters, including visiting Tesla's lab to help him prepare his power machine or even returning to 1969 and reliving the day humans set foot on the moon. The game drops you right into the middle of some of history's biggest and most important moments.
The moments in Wanderer pay homage to actual events. The themes in the game are set to explore historical, futuristic, and even post-apocalyptic settings while also visiting various moments of history back from the 1960s.
Release date: 2021
Puzzle Bobble 3D: Vacation Odyssey
From Creed: Rise to Glory developers, The Walking Dead Onslaught comes with a very different game called Puzzle Bobble 3D: Vacation Odyssey. Made in collaboration with Taito and in celebration of Bub's 35th Anniversary, the upcoming Puzzle Bobble game will launch later this year and features some of the bright, vibrant designs and adorable characters the series is known for.
This time, players will solve Puzzle Bobble puzzles against gorgeous backdrops, ranging from scenic beaches to large valleys with trees and flowers. You'll be able to twist and aim your bobbles with exact precision thanks to the PSVR and can even load up some special bobbles to help earn some game-changing power-ups.
Release date: 2021
Which VR game are you looking forward to?
Though releases have slowed down with the pandemic, there are still several exciting games in our future, like After the Fall and Song in the Smoke. These have a general release date of 2021, but we'll keep you updated if that changes. After the Fall is one of those games that promises to push the VR genre forward and show us what is possible in a VR world, and with a unique take on the post-apocalyptic world, too.
While we're all excited for any of these titles to release, it may be time to check out the upcoming PS4 and PS5 games while you wait for more games to hit your headset.